Nym is the token for the Nymtech platform, it is designed specifically for use in the Nymtech ecosystem to provide value and access to services.
To perfectly understand the importance of Nym, we first must understand what NymTech does and what services you can access with your Nym tokens.
It is these services, that Nymtech hopes to use to attract more users worldwide to its platform, which might result in an increase in demand for the Nym tokens and thus a corresponding rise in the value of the Nym Token.
What is NymTech
The importance of internet privacy can never be understated, in an age where hackers (both state-sponsored, companies, and individuals) are setting up sophisticated surveillance systems to track every activity you undertake online.
To get this into perspective, just by reading this article, your Internet service provider knows you visited us, your government knows, and as if that's not enough, we know, and so do many other third-party providers.
Nymtech is a cryptocurrency startup that aims at providing advanced internet privacy to users all over the world, utilizing blockchain technology to provide true decentralized, anonymized internet privacy services.
What is wrong with current internet privacy solution providers, you might ask? Well, to be honest, the current Virtual Proxy Network (VPN) infrastructure is highly inadequate.
Why VPNs are Inadequate for Your Internet Privacy Needs
Here is how your internet connection looks like without a VPN
Without a VPN, you have to trust your internet service provider not to sell your internet history and other data services to the highest bidder, what's worse? you have to trust them to protect you from overzealous governments.
When you use a VPN, this is how your internet connection looks like
The above diagram is a very simplified version of how your internet connection works, with or without VPN.
Without a VPN, you have to trust your ISP, with a VPN, you have to trust your VPN service provider. However, over time, we have seen how easy it is for VPNs and ISPs to be bullied by authorities across the globe.
With centralized entities, there are always going to be problems, but again, you might ask, what about The Onion Router (TOR), known for its sophisticated, decentralized privacy services?
Why Tor Might Not Be The Best Internet Privacy Solutions Provider.
We have already discussed TOR and its inefficiency, however, the main reason TOR is inefficient despite providing a decentralized structure is its lack of incentives.
We live in an incentive-driven world, TOR's decentralized network is based on free will, which means people participate in operating its nodes for the good of all.
However, this kind of motivation is not enough to encourage people to participate in operating TOR nodes.
It is estimated that governments are the largest operators of TOR Nodes and have thus affected them to decrypt users' private data.
Solutions like Nym and DVNP solve all these challenges, they are decentralized, incentive-driven, and eliminate to the largest extent the biggest hurdles in internet privacy.
How Does NymTech Solves Internet Privacy
Nymtech aims to solve these age-long privacy issues by pursuing the following services.
Services Provided by Nym
Nym solves this internet privacy issue by providing 3 core services;
How Do You Benefit from Nym
You can participate in Nym by becoming one of the following in the Nymtech ecosystem;
How To Use Nym to Ensure Your Privacy Online
The Nym wallet is designed to keep your tokens safe, in the future, you will be able to use that same wallet to interact with a node to ensure your very own privacy.
There are currently 3 versions of the Nym Wallet available; iOS, Linux (Ubuntu), and windows.
NYM Token Use Case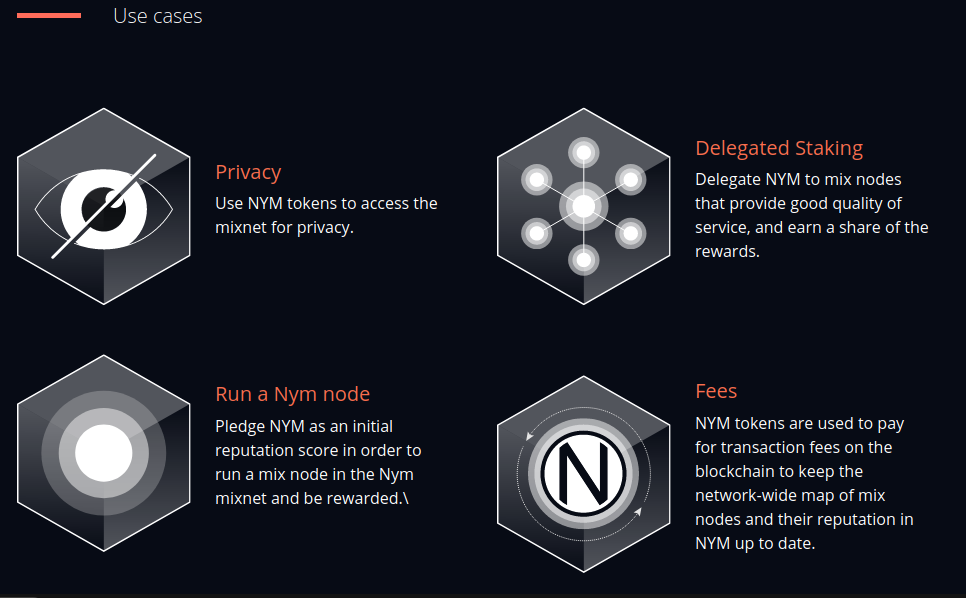 Is Nym a Good Investment?
From the technical point of view, we consider NYM to be a good investment, the project has a good use case and solves real-world problems.
However, NYM is going to be competing with the more established Sentinel DVPN, which has an already functional product.
From the Investing point of view, NYM provides cheaper access to an untapped market base, truth is that the potential is out there for both NYM and Sentinel to succeed, however, is the world waking up fast enough to make a switch from centralized and weaker VPNs to decentralized platforms like NYM?
At the end of the day, in the crypto market, we have come to the sad realization that having a good project is not enough, you also need a solid marketing team, and we sure do hope that NYM has one, else it might fail to meet investor expectations, much like siacoin.
Where Can You Buy Nym
At the time of press, NYM was trading on the following platforms;
We would email you of new and promising cryptocurrency projects, legit investments etc. once a week